Woodside Explorer Scout Unit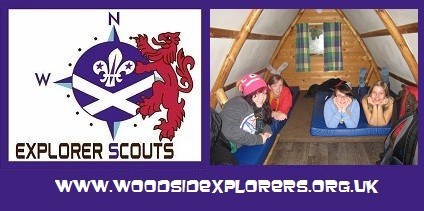 The Woodside Explorer Scout Unit is based in Rosyth and regularly meets at Rosyth Methodist Church on a Friday evening between 7pm and 9pm.

The name Woodside Explorer Scout Unit is derived from the street that separates the two Scout Groups (13th Fife & 41st Fife) that they regularly receive new members from... `Woodside Avenue`.

The Unit welcome all young people - male and female - between the ages of 14 and 18 to come and join them for fun and adventurous activities including archery, conservation, bushcraft, mountain biking, scuba diving and international expeditions to name but a few.

For the most up to date information on Woodside Explorer Scout Unit, please CLICK HERE to visit their website.


To anyone who has not tried Scouting before, I would say come on up and have a go! I think that most people do not really know that Scouting is about activities, friendship and meeting people from other countries. I have been in the Movement since I was a Beaver and I still love it!